NEW Violoncello da Spalla Conservatory Model by D. Rickert
NEW Violoncello da Spalla Conservatory Model by D. Rickert
NEW Violoncello da Spalla Conservatory Model by D. Rickert
Product Description
At this time, we are NOT offering this instrument, as there is currently little interest in factory-made copies of high-end luthier-built violoncellos da spalla. Please contact us if you really want to buy a Conservatory Model.
Our email is don@DonRickertDesign.com and phone number is (706) 896-0909 or (706) 400-1481 (mobile). You can also use the "Contact" link on this page.
Violoncello da Spalla Conservatory Model by D. Rickert
Introducing the Conservatory Model Violoncello da Spalla by D. Rickert Musical Instruments—Finally a violoncello da spalla suitable for professional performance that is affordable!
For the past several years we have kept been busy making our Standard Violoncellos da Spalla. We are, in fact, one of the most prolific makers of these unique and very special instruments, but we are still only talking about 6 or 7 instruments a year. Let's be honest, the violoncello da spalla "market" is a really small niche! It is true that those outside of the niche do not yet know what they are missing, but that will take some time to change.
While far less expensive than some other master-built instruments of this type, including our own much higher-priced Standard Plus Model, which start at $16,5000, Standard Model Violoncellos da Spalla (about $12,5000) are still out of reach cost-wise for many full-time professional musicians and advanced amateurs, regardless of commitment level. We are about to change that.
After much consideration, we have decided to follow in the footsteps of some venerable U.S.-based stringed instrument brands, such as Eastman Strings (violin family), Scott Cao (violin family), and Charlie Ogle (violas da gamba), and add relatively inexpensive violoncellos da spalla that are made in China, but set up and adjusted in our U.S.-based workshop, in Hiawassee, Georgia to be precise. Like Scott Cao, Charlie Ogle and others, we will continue to offer our higher-dollar instruments that are completely made in our U.S. workshop.
The result of our decision is our new Conservatory Model Violoncello da Spalla. The current base price is only $4,500! There are NO hidden up-charges. Buyers who want hand varnishing done in our U.S. workshop, special baroque replica strings and the like will pay only slightly more. Sure, you may have to sell a guitar or mandolin on Reverb.com or Elderly Instruments to make it work, but the price is doable—we know that this is true, as we have done considerable market and pricing research as part of the due diligence behind our decision to move forward with these exciting new instruments.
We are taking orders NOW for the first 12 instruments. You can order here or you can call us at 706-896-0909 or email to discuss and/or finalize a purchase. To be honest, there is really not much to discuss—professional level violoncello da spalla, set up by a master U.S.-based luthier, for $4,500. The lead time from order to delivery is currently about 60 days.
Introduction to the Violoncello da Spalla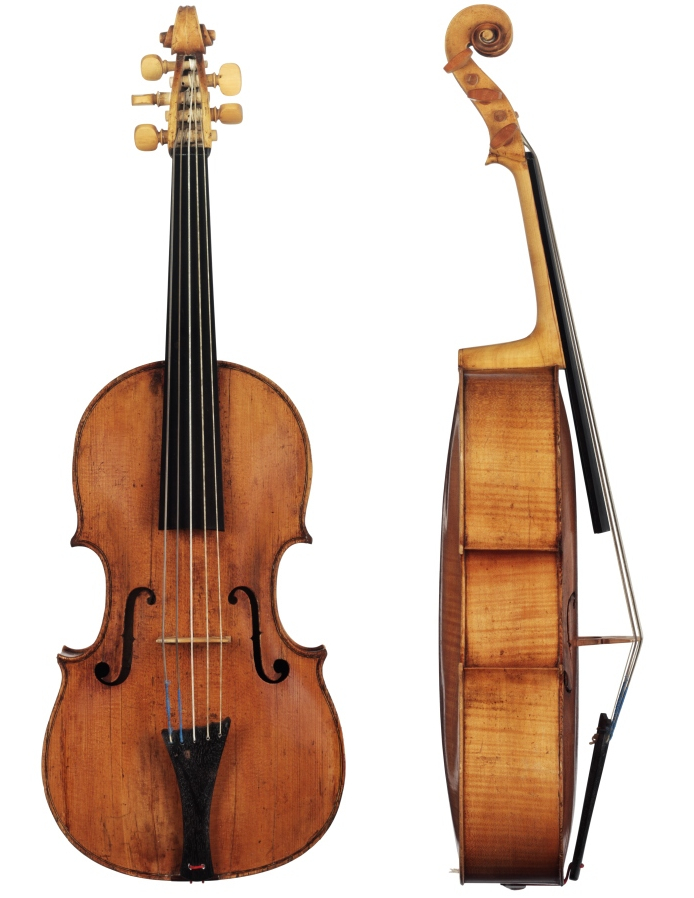 After receiving inquiries about violoncellos da spalla for several years, we started making them on a custom basis in 2017, Due to their extreme popularity, we have making them on a regular basis since 2018. Our current production is 6 to 8 a year. We are taking steps to increase this number to 12 a year (one per month). We also make octave violins, 5-string violins and our high-end travel violins. Starting in 2022, we will also be making octave mandolins, citterns and mandocellos.
We now offer two models of full-size (i.e. 18" body) Violoncello da Spalla:
Violoncello da Spalla Standard (Starting as low as $8,400)
Violoncello da Spalla Master-Built Deluxe (Starting as low as $16,500)

This instrument has the same basic specifications as the Standard Model, but is completely hand-made by Master luthier, Dr. Donald Rickert in our workshop in Hiawassee, GA, USA, with no apprentice labor. It also has decorative touches not included with the Standard Model. Authenticity of provenance is assured by an NFT (Non Fungible Token), in the form of a micro-chip built into the instrument during construction. The technology of how this works is way beyond the scope of this product description. An "old school" physical notarized certificate of provenance is also provided.
Our Violoncello da Spalla Standard is the model described here. This is the very same instrument being played in the above demos. It is essentially a replica of an 18" violoncello da spalla after the famous instrument (1732) by Johann Christian Hoffman pictured here. This 5-string instrument is powerful and sonorous, regardless of whether it is strung with modern strings, gut strings or a mix, such as gut for the high three with modern lower two string.
Background: What is a Violoncello da Spalla?
The violoncello da spalla (Italian for "cello of the shoulder") was, until fairly recently, a 5-string instrument of the violin family from the Baroque period that had fallen into obscurity. It is a small instrument, about the size of a modern 1/10 size cello, that is tuned to C, G, d, a, e' (i.e. like a cello with an additional string on the treble side that is tuned to e', which is an octave lower than the e" string on a violin)
It is thought by many that the violoncello da spalla was invented, or at least perfected, in the early 1700s. A now well-documented and widely-replicated instrument was made in 1732 by the German luthier, Johann Christian Hoffman, a contemporary and thought to be a close friend of Johann Sebastian Bach. Bach's purported close relationship with J. C. Hoffmann has led to a now popular theory that Bach had a hand in the invention of the violoncello da spalla. This belief continues to be debated by experts who study the history of musical instruments. Other less well-documented instruments now considered to be early versions of violoncellos da spalla (in today's parlance anyway) were made in the 1600s. None of these instruments were called "violoncello da spalla" when they were new; well, probably not.
Anyway, what is now widely regarded as the primary candidate for distinction as the original actual violoncello da spalla, rather than just a large 5-string viola, having been previously classified as either a viola pomposa, viola da spalla or piccolo cello, was made in 1732 by Hoffmann. It is this instrument that, today, is the de facto "gold standard" for a proper violoncello da spalla. Most contemporary makers replicate at least the principle measurements of the Hoffmann instrument. Most builders that I know of apply knowledge gained in the past 300 years to things like the bass bar, tap tones and the like. Some makers, such as myself, use modern computer-assisted audio analysis to fine-tune the "tap tone" of thier instrument plates (i.e. the "top" and the "back").
The modern resurrection of the violoncello da spalla, and widespread attribution of the instrument's invention to Hoffmann, is due largely to the Russian-Dutch luthier and media celebrity, Dmitry Badiarov. Badiarov, based in The Hague, introduced his first violoncello da spalla in 2004, essentially after Hoffmann, albeit, considerably more refined, in my opinion, than the original 1732 instrument. While Badiarov, and his collaborator, Sigiswald Kuijken, are more well-known, it was earlier research by the Dutch violinist and violist, Lambert Smit, that laid the groundwork for Badiarov and others involved in the resurgence of the violoncello da spalla. Smit is regarded by many as maybe the the grandfather (with Badiarov the father) of the modern revival of the violoncello da spalla. No one can deny Badiarov the distinction of original Violoncello da Spalla Evangelist! But, it was Smit who first posited the involvement of Bach, himself, in its invention. It was Smit who surmised that Bach's Cello Suites and Cantatas were written, not for the full-size 4-string cello, but rather for the much smaller 5-string violoncello da spalla.
Since 2004, the violoncello da spalla has grown exponentially in popularity, largely due to Badiarov's leadership and tireless ongoing research, teaching and publishing. He also has made quite a few of these unique and very cool instruments for world-famous musicians.
How is the Violoncello da Spalla played?
The violoncello da spalla has been described as a cello for violinists. Unlike the 4 or 5-string chin cello, a.k.a. "octave viola" (see image below),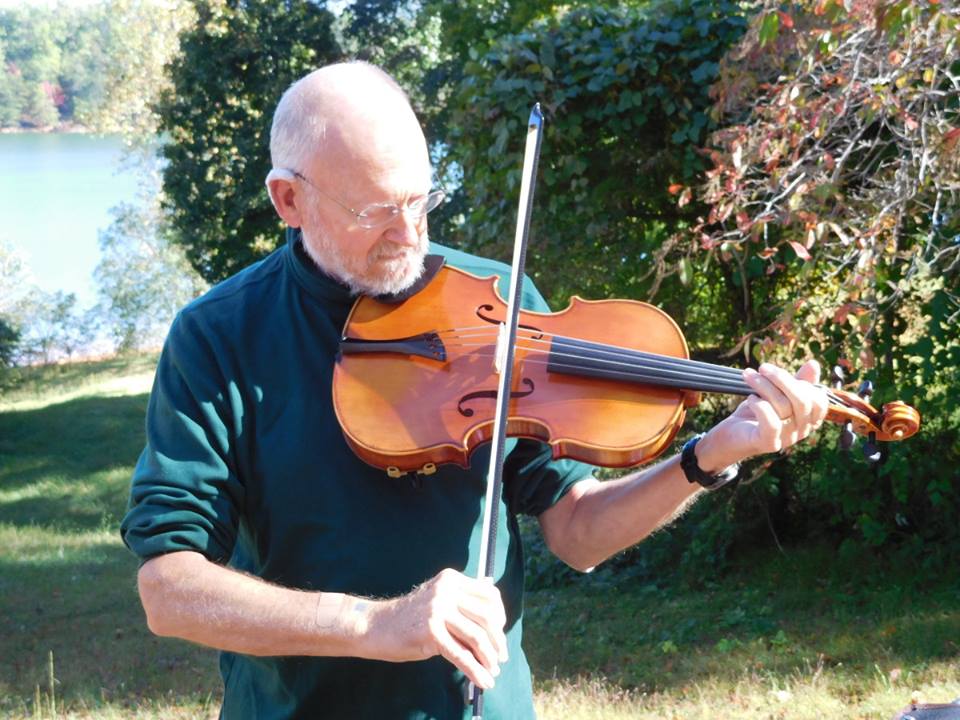 the violoncello da spalla is held across the chest, secured with a strap around the shoulder and neck, as you can see in in the photos below of the late Lambert Smit.
The violoncello da spalla is easily (a relative term) played by violinists and violists. Indeed, experts believe that the instrument was invented in the early 1700s in order to minimize the learning curve of accomplished violinists and violists desiring to play a baritone range instrument.
Learning to bow the Violoncello da Spalla does not take much time at all, assuming pre-existing proficiency on viola. That being said, any, if not most, experienced violinists and fiddlers, whose experience is primarily in playing the lead melody, will probably need to brush up on their music theory, particularly the principles for improvising baritone/bass harmony and chords. Put another way, they will have to learn the mostly lost art of basso continuo. Of course, there are many fully-scored solo pieces for violoncello from the Baroque period, especially by J.S. Bach.
Interest in these newly re-discovered instruments is growing as part of an overall re-discovery of Baroque music and Baroque instruments, particularly those played with a bow.
Description of the Violoncello da Spallas (Standard, Artist (aka Standard Plus) and New Conservatory Models) by D. Rickert
Our violoncello da spalla is based on measurements taken from the surviving instrument by Johann Christian Hoffmann (1732) by Badiarov and others. As would be expected, our Violoncello da Spalla is 5-string instrument with a body length of 18 inches (14.5cm). It is tuned to C, G, d, a, e'. In other words, the tuning is the same as a full-size cello, but with an additional string on the treble side that is tuned to e' (an octave lower than the e" string on a violin). It is held across the chest, suspended by a strap around the players neck, not unlike a modern guitar, but much closer to the chin (see the images above).
Approximate Critical Dimensions
Overall length: 30" (75cm)
Body length: 18" (45.5cm)
Upper bout width: 8.25" (21.5cm)
Lower bout width: 10.25" (26cm)
Ribs: 3.15" (8.0cm)
Playable String length: 16.53" (42cm)

Note about string length: The playable string length of this instrument requires a slightly disproportionately long neck length when compared to the "ideal" string and neck lengths of a modern 1/10 size cello or an 18" viola.

Nut width and string spacing: 34mm with; 26mm spread with average of 6.5mm between strings
Bridge string spacing: 2 3/8" (60.32 mm) string spread
Materials (Standard and Artist Models)
Top: Alpine or Carpathian Spruce
Back and Ribs: Bosnian Maple
Neck and Scroll: American or European Maple
Materials (Conservatory Model)
Top: Chinese Spruce
Back and Ribs: Chinese Soft Maple
Neck and Scroll: Chinese Hard Maple
Varnish
Traditional hand-rubbed oil or spirit.
Setup:
Nut and saddle:
Pegs:
Wittner FineTune(tm) (Artist and Standard Models)
Ebony (Conservatory Model)
Fingerboard:
True veneered spruce core Baroque (Artist and Standard)

Baroque type ebony and maple composite (Conservatory)
Tailpiece:
Maple or ebony/maple composite (Artist and Standard Models)
Ebony/maple composite (Conservatory Model)
Bridge:
High leg viola da gamba type (Artist and Standard)
Custom large viola type (Conservatory)
Strings
The standard string set for our Violoncello da Spalla is designed to achieve a balance between period authenticity and the expectations of the modern player with respect to sonority/playability/practicality, as well as reasonable cost. As one should expect, we also offer premium replica real gut strings.
You would think that strings for a 1/10 size cello, with a long viola string for the E, would work. Unfortunately, there are NO makers of premium strings in the 1/10 size. Premium cello strings in the 1/8 size tend to be a bit too long. Custom violoncello da spalla strings by Infeld-Thomastik are possible; however, they are almost impossible to get and are insanely expensive. Currently we are using with good results a custom set, made up of repurposed extra long viola strings, with a custom-made wound silk string for the C.
We will work with you to determine the best combination for your needs. String configuration is a matter for post-purchase discussion.
Cases
The instrument comes with a padded soft case.
Bow
The bow is your responsibility. If you like, we will find you the best deal possible for a Baroque cello bow in whatever price range you desire. Some players use a high-quality modern cello bow; however, that practice is becoming less popular. The least expensive good bows start at about $450, regardless of whether they are modern or baroque. Many players start out with a student-level Chinese-made baroque style bow, which costs about $200.
Where is the Instrument Made?
While the Standard Plus Model is made completely in our workshop in Hiawassee, Georgia, USA, and the Standard Model is made mostly in our Hiawassee workshop, the new Conservatory Model is made in China, with setup and accessorizing done in our Hiawassee workshop.
Find Similar Products by Tag
Product Reviews
Find Similar Products by Category
Customers also viewed